COMPLETE FOOD GUINEA PIG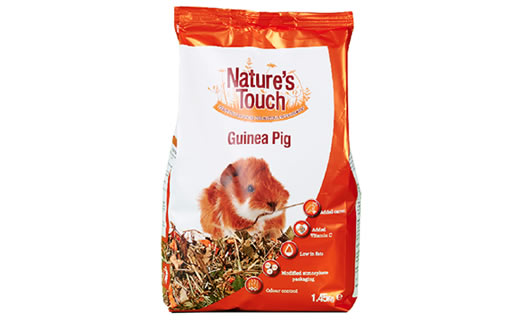 We all know that Guinea Pigs need extra vitamin C, for this reason Nature's Touch for guinea pigs has been developed to offer an aromatic mix of vegetables, plants and flowers rich in vitamins.
In this food you can find: Hay, bran, dehydrated alfalfa, puffed wheat enriched with vitamin C, straw, sunflower, wheat, beetroot pulp, nettle (Urtica dioica L.), dehydrated carrot, birch (Betula L.), etc.
Guinea pigs are not capable of making vitamin C, so this food is enriched with Vitamin C. Guinea pigs need to consume very little carbohydrates, diets low in grains and high in plants improve the guinea pig digestion and will also helpmaintain effective dental wear.